Cultivation & Plantation of Organic Ganoderma
Our Green House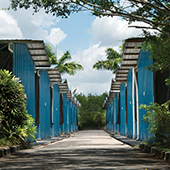 Harvesting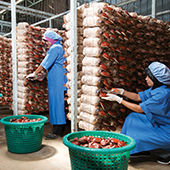 Mixture Machine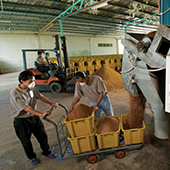 Steamer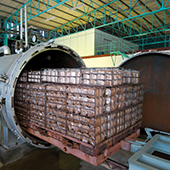 From the initial interest in orchid plantation and the medicinal properties of various herbs, Mr. Leow Soon Seng started a research on various species of mushrooms in Malaysia, year 1983. After conducting countless tests and experiments, he found that Ganoderma lucidum has the highest therapeutic value compared to other types of mushrooms. Furthermore, he discovered that the temperature (28˚C - 32˚C) and level of humidity in Malaysia were very conducive for cultivating Ganoderma.
Today, Gano Excel owns the World's Largest 100% organic Ganoderma plantation located in Kedah, Malaysia. A proper environment is essential in cultivating high quality Ganoderma and that's what differentiates Gano Excel's Ganoderma from the rest. We invest greatly into our plantation, greenhouses with sophisticated and modern cultivation technology to ensure consistent and premium quality Ganoderma lucidum.
At Gano Excel, we adopted the tissue culture and 100% organic method for the cultivation of Ganoderma. We used paddy husks, brown rice flour and rubber trees scrapes as a medium of plantation. No chemicals, pesticides or hormones are used in the cultivation. Natural environment factors such as temperature, humidity and exposure to the sun are closely monitored & controlled to ensure optimum growth while maintaining therapeutic properties. It takes 3 months for Ganoderma to mature before it is harvested under tight supervision.