Global Statistics Graph 2014
---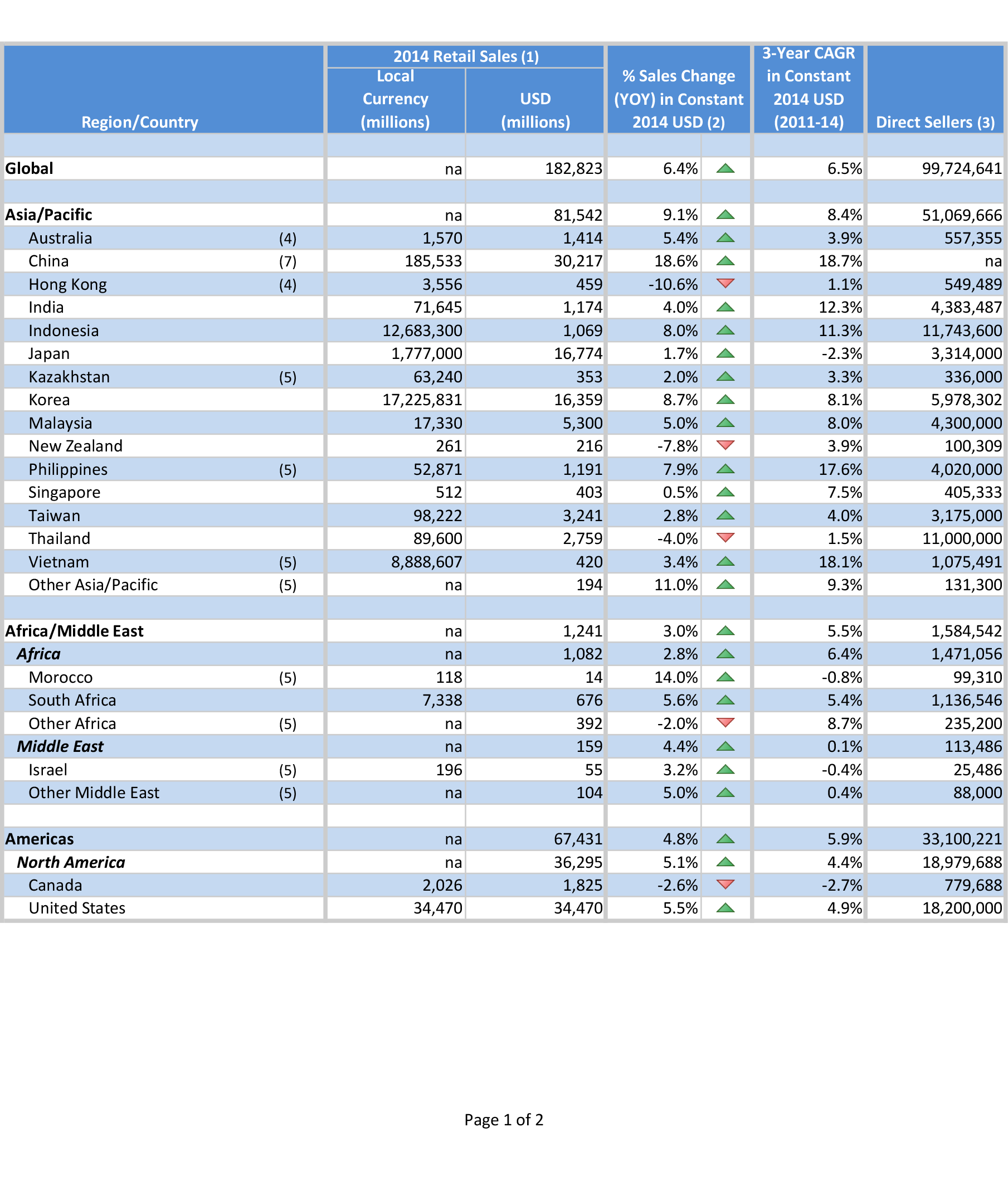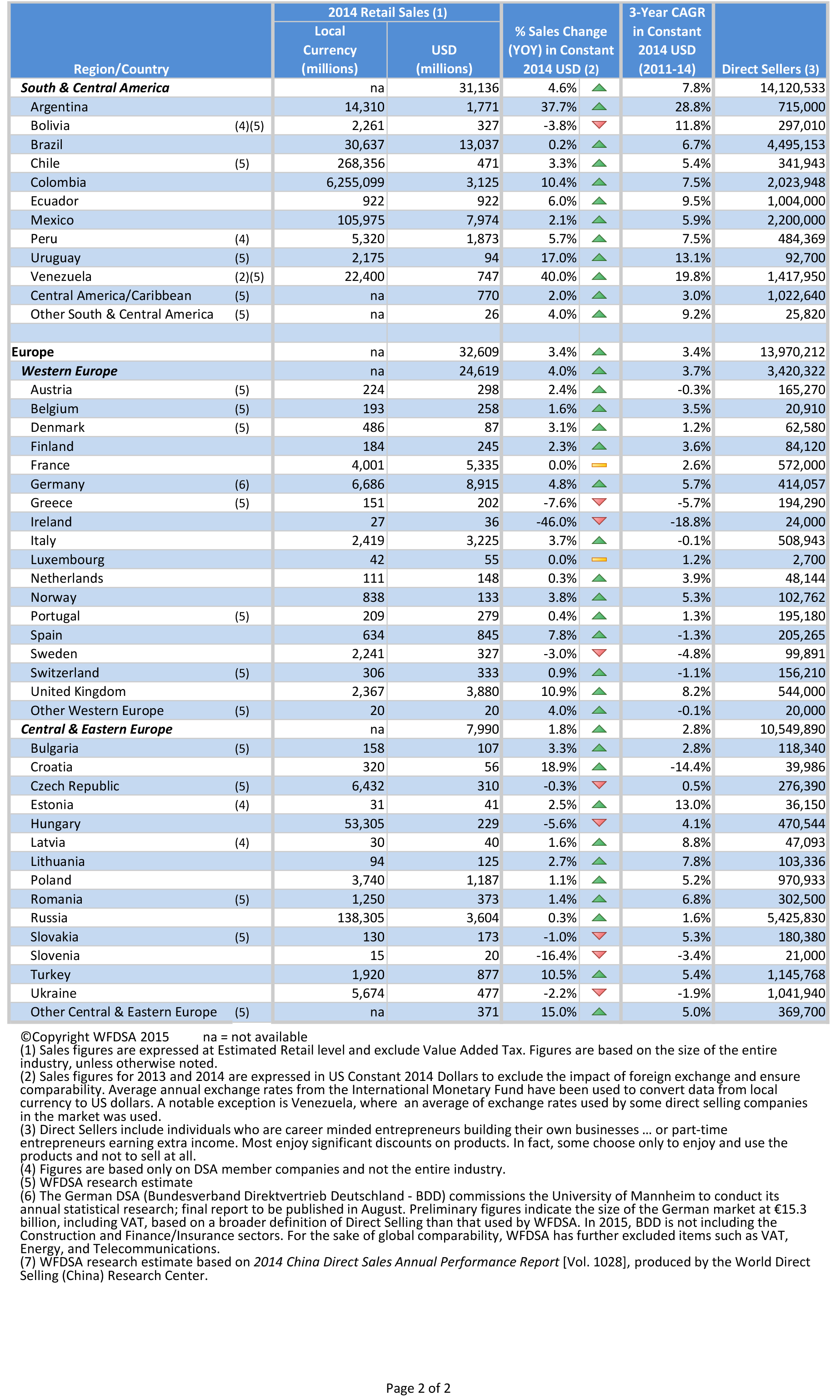 ---
(Latest figures from World Federation of Direct Selling Associations www.wfdsa.org )
Opportunity

What is Direct Selling:
Direct Selling is a perfect business model that moves products from the manufacturer directly to the Independent Business Owners (IBO) and in return of the purchase or sales, the IBO's will be paid a monthly commission based on their performances in relation to the company's compensation plan. This model allows the company to create a direct point of product sales to its IBO's without spending much on the advertisement cost. One of the reasons for Gano Excel to choose and adopt the Direct Selling method is because, "Word of Mouth" is a very powerful marketing strategy and the best way to promote the Ganoderma based products are through this channel so that the consumers able to get full details about the benefits of consuming the products.
What is Network Marketing?
This multi-billion dollar industry continues to amass fortunes for millions of people each year and it has been predicted that the Network Marketing industry will be the Number One Millionaire producing Industry in the world. Network Marketing is a financial solution for millions of individuals across the globe and the industry is experiencing high record growth. About 29% of all network marketing sales are focused on wellness industry and after 2015, almost 50% of households are to be involved in Network Marketing business. With today's sophisticated technology, one can do business in so many countries just by sitting at home. People around the world are well connected via social media thus enables them to introduce the business opportunity to the global market.
What is Wellness Industry?

Wellness Industry is one of the most lucrative financial opportunities around today because everyone wants to have a better health, live longer and enjoy life more as they grow older. There are scientific evidences to show proof that our health problems are mainly related to either nutritional deficiency or environment toxicity or both.
The wellness product gives our body optimal health and increases the quality of life. The focus of the people has been diverted from curing a disease to preventing a disease due to high medical cost that unbearable by some.
Today, the wellness industry is valued at $USD 500 billion in sales, up from $USD 200 billion 5 years ago and it's expected to grow by almost 50% over the next 5 years. It has been predicted that Wellness industry is the Next Trillion Dollar Industry.
What is Coffee Industry?
Coffee is the 2nd most consumed drink globally, surpassed by water. Coffee is also the 2nd most traded commodity, only surpassed by oil and well ahead of commodities such as gold, sugar and corn. Coffee industry is worth over $USD 100 billion worldwide.
Why Gano Excel

Why Gano Excel Business Opportunity?
Gano Excel is well-positioned as a global multi-billion dollar brand with a niche market and long term growth potential through our proprietary Ganoderma Immunology products. What makes Gano Excel so different as compared to other network marketing companies is our unique business model that offers the market potential of 3 booming industries combined. The ever growing coffee and wellness trend together with the booming network marketing industry is an opportunity for Gano Excel to help you achieve your financial success.
At Gano Excel, we provide the best products and compensation plan to create millionaires. We will teach, coach and encourage you at every step of your journey with us. We are passionate about our brand evolution in the wellness sector, remaining steadfast to our Ganoderma focus and will work with you to attract, build and retain your leaders and downlines.
Within 20 years, Gano Excel has transformed lives, empowering many towards success through our low-risk, low start-up cost business opportunity. If you would like to be part of Gano Excel success and be a part of the coffee, wellness & network marketing industry, feel free to contact Gano Excel for more information.
The Best Company
Gano Excel is the only Ganoderma Lucidum provider in the world to own all of its own production facilities. The mushrooms are grown and harvested inside huge, climate-controlled greenhouses where every variable can be carefully controlled and purity guaranteed.
We guarantee quality and purity all the way from planting of the initial spore through to the consumers table.
How does it work?
Become Our Distributor
Purchase Our Products
Earn lucrative income by helping others to start and build Gano Excel Business